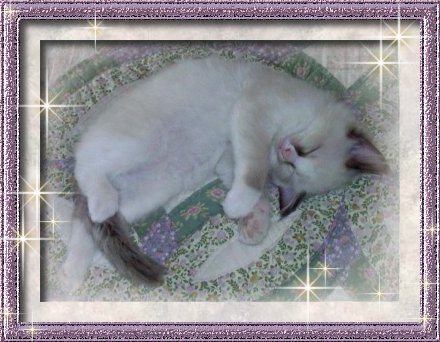 All Pet Quality and Show Quality kittens will be spayed/neutered at least one week prior to going to new homes. For the health and well being of our Ragdolls we do NOT do stud service. We are a closed cattery. All of our breeders have tested negative for FIV and Feline Leukemia. Your kitten will receive two vaccinations for 3-way distemper. I use an all killed virus vaccine. Your kitten will be freshly bathed, and all claws trimmed before you pick it up. Most kittens are ready to go to new homes at 12 weeks of age. All kittens come with a written health guarantee & a starter kit (food & toys included). No de-clawing, kittens are trained to use scratching posts.
Prices are as follows: Pet Quality - $650-$750 Show Alter - $850- $1200
Breeder Quality and Show Breeder Quality - $1400-$2000
Shipping costs are extra.
If you would like to purchase a kitten please contact me for availability. Contact Ann J. Lang at Cell: (715)340-3435 or email starliterags@gmail.com It will be necessary for you to place a deposit of $100 down for reservation. Deposits are non-refundable. We now accept credit card payments through Paypal.
**Feeding your new kitten. We now feed and recommend Life's Abundance Cat Food. No worry about food recalls ever again. All natural human grade ingredients delivered right to your door! Click on this link to order. www.healthypetnet.com/annlang
Available: Updated- 08-18-11
Hello Friends! Kitten season is nearly over soon you won't be able to find a kitten. I still have a few kittens available and three very little kittens now that are neutered and ready to go! Don't wait until they grow up! Serious visitors are welcome. Come and see them in person or leave a deposit for reservation.
#1. "Tigger"

Chocolate Lynx Point Male.

Beautiful kitten! Very lovey. Playful and friendly. Little guy who is neutered and ready to go now!

$750 - Neutered vaccinated.

#2. "Jazz"

Lilac Lynx Mitted Male.

Beautiful kitten with deep blue eyes. He is very outgoing, playful, people loving kitten.

$850 - neutered/shots included.

Will consider placing as a breeder to an approved home for $2000.

#3. "Prince"

Chocolate Mitted Lynx.

Prince is perfectly marked with a perfect blaze and diamond on the fore-head. He will be a stunning adult. Sweet and friendly, loves to play. This kitten would make an excellent show prospect.

$950 - Neuter/shots

Show Quality.

#4. "Jimmy"

Chocolate Bicolor Male.

Very nicely marked. Beautiful face, nice eye color, loving & playful. Loves to be held. Take me home now while I'm still a little guy! Ready now!

$750 - neuter/shots included.

#5. "Bella"

Chocolate Mitted Lynx Female.

She is sweet and friendly, loves to play and be held, very nicely marked. Ready mid to late August.

$850 - spay/shots included

#6. "Leon"

Chocolate Lynx Point Male.

Young adult, only 1 year old. Leon is outgoing and loves to play and be petted. He is neutered/vaccinated.

$450.